St. Cloud State positions itself as a leader in esports
The school launched the Huskies Esports Arena in April and plans to host tournaments this summer.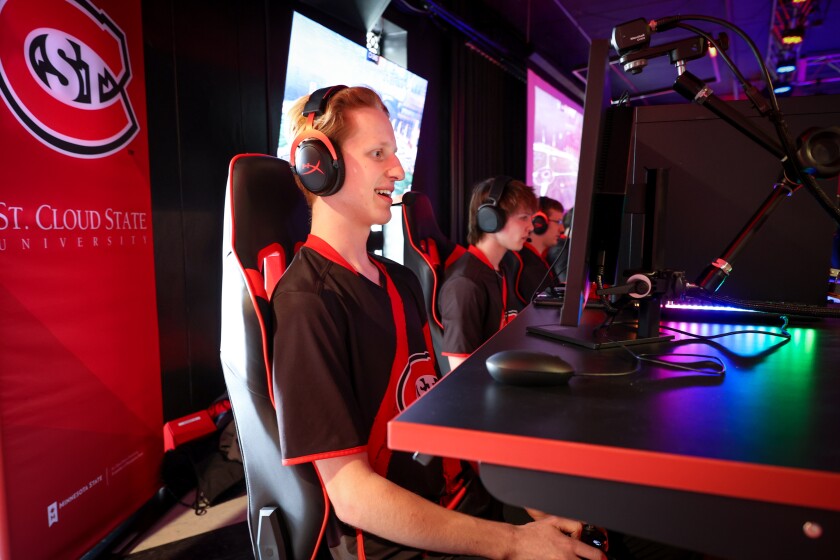 ST. CLOUD — If you visit the St. Cloud State University campus these days, you might discover some dark but very lively rooms: gathering spaces for students to participate in esports.
The university is going all in on esports, President Robbyn R. Wacker said on Monday, April 3, at the launch of the school's new esports arena. St. Cloud State's approach to esports is unique, Wacker said.
"St. Cloud State is a leader in esports in the state of Minnesota and we will continue to be a leader in the esports experience, making sure that all of our students are able to participate and enjoy esports however they want to," Wacker said.
Esports at SCSU dates back to 2014, when a student formed the first esports club. Today, the school has a competitive varsity esports team and esports clubs. But leaders are hoping to create more opportunities for students to participate at all levels, and to also leverage their interest in esports as a career, said Chase Neukam, SCSU's director of esports.
"We're not just investing in the competitive aspect of esports. We're really diving into the community and we want to see a very diverse, vibrant esports community on campus," Neukam said.
Esports are video games played in a highly organized, competitive environment, according to Harvard International Review. Tournaments and competitions are broadcast live, worldwide, and players can win money and get lucrative sponsorships. Gamers play a variety of video games, from team-oriented multiplayer games to single-player, from imaginary worlds to virtual versions of physical sports.
Esports has a huge global audience: In 2022, there were more than half a billion esports viewers worldwide, according to Insider Intelligence . For example, the 2021 League of Legends World Championship Final in Reykjavik, Iceland, had a record 73.86 million peak concurrent viewers, according to the Federal Reserve of St. Louis. In comparison, the 2021 Super Bowl drew 96.4 million viewers.
And esports is becoming big business — already a billion-dollar industry worldwide, and experts project a value of nearly $6 billion by 2029, according to Fortune Business Insights.
St. Cloud State already has a varsity esports team that competes against other colleges via the National Esports Collegiate Conference, or NECC. It will soon add other ways for students to participate in competitive esports at lower levels — roughly equivalent to a junior varsity level team, Neukam said.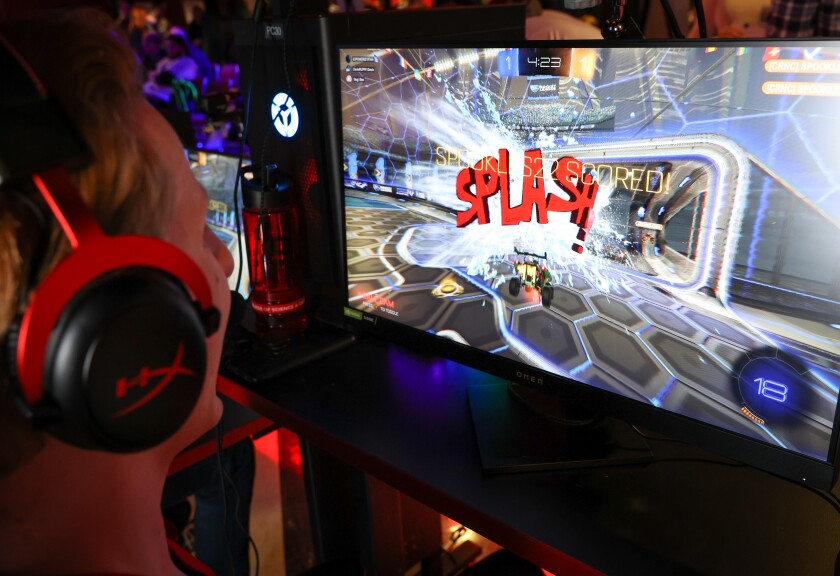 St. Cloud State is planning to financially support some teams and clubs and provide some scholarships to team members and club leaders.
This summer, the college is hosting a couple of state and regional esport tournament events, as well as summer camps for younger kids.
Part of that is the new esports arena — a room in the basement of Atwood Memorial Center that in the past had been a nightclub, a music venue, a space for dances — whatever students needed, Wacker said
The room has a bar-type area perfect for serving food and drinks and black-out curtains to keep out the daylight. At the front sits a row of computer stations, tricked out with everything from monitors and gaming chairs to multicolored lights and multiple large screens to stream esports events to the crowd.
There's even a booth, complete with St. Cloud State colors and logos, to broadcast commentary for esports events.
St. Cloud State leaders hope to leverage the billion-dollar industry for their students, helping them pursue the many career opportunities in esports, said Kurtis Homan, an assistant professor in the department of management and entrepreneurship. Homan is helping to set up the esports minors St. Cloud State is offering, including an esports management minor for the business side of esports, a mass communications minor for the broadcast side and a game development certificate.
Homan's own experience with gaming goes back decades, as a player, a league and tournament organizer and broadcasting. But he also earned his doctorate and an MBA. This gave him a unique perspective on the esports industry.
"In esports, we have a lot of people that have a lot of talent, a lot of passion, but there is still a lot of lacking and a gap between understanding the business from a financial side," Homan said. And without that, companies are launching and folding.
"That's where I plan on filling in that gap with the esports minor, in which we are trying to develop your business fundamentals," Homan said.
The esports program is also offering experiential learning, through internships and paid positions, for students to get real-world experience in esports team management, coaching, multimedia content producing, directing, on-air commentary, marketing and more.
"It doesn't matter if you're a competitive player, if you are working on-screen talent, or if you're even just working behind the scenes, you can benefit from this," Homan said.
The university's mass communications department is leveraging its expertise in broadcasting to expand into the esports world, said Mark Springer, dean of the College of Liberal Arts.
On the casual gaming side, St. Cloud State already has a themed community within one of its residential halls, for students with an interest in gaming and esports. The community has special programming, including game nights and tournaments, and a lounge where students can connect game consoles and play together.
"The message that we're sending here at St. Cloud State is a message of belonging," Neukam said. "Whether it's a career opportunity, whether it's a community-driven opportunity, whether it's a competition-driven opportunity. We are planting our flag and saying you belong here for esports and we have a place for you."